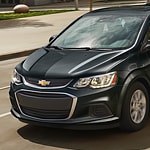 The Chevrolet Sonic is one of the best subcompact cars on the market, and with a name like Chevrolet, you know it's dependable. At Suburban Chevrolet of Clinton in Clinton, MI you can be assured of receiving the finest service in the area. Along with that, the standard features on the Chevrolet Sonic make this one of the most flexible small cars on the market.
One of those features is the 14.9 cubic feet of cargo space in the sedan. If you need more cargo space, it might be wise to look closely at the hatchback model which has 19 cubic feet of cargo space directly behind the rear seat. Folding down the rear seats brings that number up to 47.7 cubic feet. This makes the available cargo space of the Chevrolet Sonic some of the largest in the class with either body style.
When you add that to the standard features on today's Chevrolet Sonic and you get a vehicle worthy of buying.