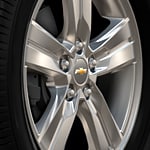 You need to experience some things for yourself before you are entirely able to believe it. Driving the Chevrolet Trax is one of those things. On the surface, this might look like a small and less than spectacular SUV. However, one test drive when visiting Suburban Chevrolet of Clinton will have you realizing precisely the opposite.
The 1.4-liter turbocharged engine that comes standard on the Chevrolet Trax is everything you need to get headed in the right direction. While you might not win any speed races with this SUV, you will have more than enough power to get where you and your family want to. Having plenty of cargo in the back will not slow it down either.
Another appealing performance feature with the Chevrolet Trax is the inclusion of the all-wheel-drive system. This will provide you with more stability as you drive in potentially hazardous conditions in Clinton, MI. By redistributing torque to just the right places, you will find that navigating the Chevrolet Trax is much safer than you envisioned.